So, the much-trailed debate on what sort of relationship the CofE can have with ACNA, triggered by Lorna Ashworth's private member's motion, took place thus afternoon.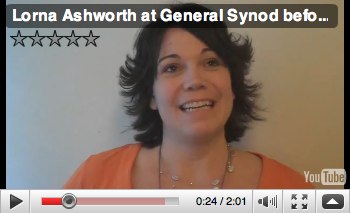 Many wiser words are recorded elsewhere - but I was left reflecting on what was going on here. That is to say, who can we be friends with. And especially, whether you can be friends with two friends, who are not any longer friends with each other.
I was also trying to work out was what was being asked for here - potentially being in communion with two different churches within the same Anglican province, was a new precident or not - that may have had more significance on the result of the debate.
I found the answer - yes we already do have places where there are more than one group of Anglicans on the same patch. Europe for one - where the CofE diocese of Gibraltar in Europe overlaps with a the European wing of - oh yes -
The Episcopal Church, TEC
.
Thanks to
Ruth Gledhill
for the interview/pic
Alastair
GS101